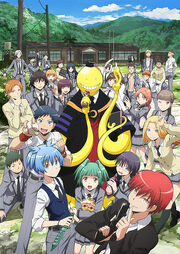 Assassination Classroom is the anime adaption of the manga with the same name that premiered January 9, 2015. The series is produced by Lerche and directed by Seiji Kishi. The anime is broadcasted by Fuji Television in Japan on the late Friday night slot and Funimation has also received the rights for internet, US streaming,[1] and a Broadcast dub which was released on February 18, 2015.[2] The first opening theme of the anime is Seishun Satsubatsuron, (青春サツバツ論, Savage Youth Theory) by character VAs, Mai Fuchigami, Aya Suzaki, Nobuhiko Okamoto, Ryoto Ohsaka, and Shintarō Asanuma as a group named 3-nen E-gumi Utatan, (Class 3-E Song Unit, 3-nen E-gumi Utatan) and the first ending theme Hello, shooting-star by moumoon.
The second season titled "Assassination Classroom: Second Season" (renamed Final Season after the conclusion of the manga) began on January 7, 2016. Its first opening theme is QUESTION by 3-nen E-gumi Utatan, (Class 3-E Song Unit, 3-nen E-gumi Utatan) and its first ending theme is Waning Moon by Shion Miyawaki.
Cast
According to the 2014 31st issue of Shueisha's Weekly Shonen Jump, the voice actor cast for the anime is different from the voice actors in both the "VOMIC" and 2013's OVA voice actor casts.[3]
The first news of the cast revealed the voice actors of Korosensei, Tadaomi Karasuma, and Irina Jelavić and[4] later, the voice actors of Class 3-E's students (minus Itona Horibe and Ritsu) were revealed. Among them was Nobuhiko Okamoto, Karma Akabane's voice actor, who of which is the only VA to reprise his role from 2013's OVA.[5]
Episodes
Main article: List of Episodes
OVA
Main article: Assassination Classroom (OVA)
An exclusive event OVA adaptaton of Assassination Classroom was produced by Brain's Base and premiered at the Jump Super Anime Tour 2013 on October 6, 2013 at its first stop in Sapporo. It was released on DVD on December 27, 2013 as a bundle with Volume 7.
Openings and endings
Main article: Assassination Classroom Openings and Endings
Staff
Japanese Staff
Director: Seiji Kishi
Screenplay: Makoto Uezu
Music: Naoki Sato
Original Creator: Yusei Matsui
Character Design: Kazuaki Morita
Art Director: Ayumu Miyakoshi
Chief Animation Director:

Keiko Kurosawa
Kouji Yamagata

Mechanical Design: Tomohito Hirose
Sound Director: Sato Iida
CGI Director: Masafumi Uchiyama
Director of Photography: Yuusuke Mishina
Animation Producer: Yūji Higa
Color Design: Tarō Kaguchi
Animation Effects Director: Takashi Hashimoto
Prop Design: Tomohito Hirose
Sub-Character Design: Keiko Kurosawa
Theme Song Composition: Kouhei Tanaka (OP)
Theme Song Lyrics: Aki Hata (OP)
Theme Song Performance:

3-nen E-gumi Utatan (OP)
Moumoon - Miyakawa Shion (ED)

Animation Production: Lerche
Broadcaster: Fuji TV
Production:
Assassination Classroom Production Committee:
Sound Production: Dax Production
English Staff
ADR Director: Joel McDonald
Script: J. Michael Tatum
Executive producer: Gen Fukunaga
Producers:

Carly Hunter
Justin Cook
Michael Harcourt

Internet Streaming: FUNimation Entertainment
Licensed by: FUNimation Entertainment
Videos
See also
Streaming sites
References
Community content is available under
CC-BY-SA
unless otherwise noted.